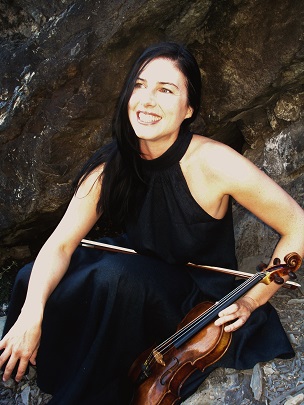 First prize with distinction at the Conservatoire National Supérieur de Musique in Lyon in 2003, with R.Dugareil, then A. Roussin as masters, Sara Chenal later attended advanced violin classes at the Rotterdams Conservatorium under the guidance of J.J. Kantorow, then a series of chamber music classes at the Conservatoire National Supérieur de Musique in Paris with E. Bellocq, J.J. Kantorow and R. Dyedns.
A full-time member of the orchestra at the Opera of Dijon (1996-2001), she subsequently veered to a career as a soloist and chamber music player, first as member in a string trio, then a "Cordes et Ames/ Strings and Souls" duet with the guitar player Olivier Pelmoine. Since 2006 she plays as first violin in the "Sine Qua Non" string quartet and frequently appears in all sorts of chamber music groups.
She also appears as guest violinist in such ensembles as La Baule, J.W. Audoili, Forum Sinfonietta, Les Musiciens d'Art, Musica de Flandre, Océan and she regularly performs contemporary music with Multilatérale, Cairn, Court-Circuit, Instant Donné or Utopik.
Sara Chenal's performances take place in France: Paris Cité de la Musique, Théâtre du Châtelet, salle Cortot, Salle Gaveau, l'Olympia, although she has occasionally performed in the Basilique of Vezelay, Mont Saint-Michel, Palais des Papes in Avignon or Theatre Graslin in Nantes... and abroad: Italy, Germany, Japan, Argentina, Brazil, Nigeria, Cameroon, Tunisia, Canada.
Several pieces have been dedicated to her ( J.Y.Bosseur, J-L Narvaez, F.Rossé) and she has often been asked to take part in broadcasts, in particular the well-known France-Musique programmes "Dans la Cour des Grands" or "Alla Breve". She has recorded three CDs for Scarbo with the guitar-player Olivier Pelmoine and appears in miscellaneous recordings with Marc Perrone, Jacques Lenot, Philippe Leloup, Albert Hamman, Emilie Simon, Jean-Pierre Ferey and the quatuor Sine Qua Non.
Sara Chenal is also very keen on teaching and has passed her Certificat d'Aptitude. After teaching for five years at the Conservatoire à Rayonnement Régional in Nantes, and four years at the CEFEDEM Bretagne-Pays de la Loire, she is at present both teacher and coordinator at the district Conservatoire of Paris 9e.
---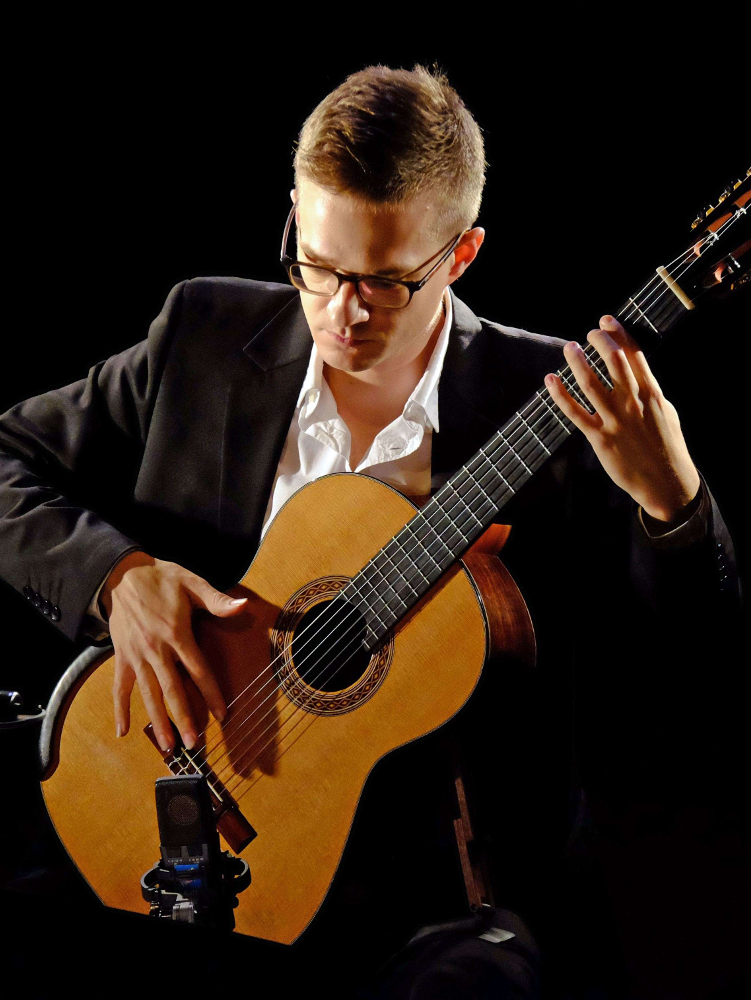 Described by The New York Times as agile, compelling and irresistible, Antwerp-based guitarist Nico Couck (b. 1988) started playing the instrument at age 15. In 2013 he obtained his Master's degree at the Royal Conservatoire of Antwerp, under the guidance of Professor Roland Broux. Since 2010 he won several awards at e.g. Radio Klara Festival, Laboratorium III (ChampdAction), and the International Lions Music Competition. In 2014 he was awarded a Kranichsteiner Stipendienpreise for interpretation by the Internationales Musikinstitut Darmstadt. His repertoire varies from Baroque to contemporary music with a dedicated focus on present-day developments in music.
In addition to concerts in Europe, Asia, South America, and the U.S., past events and venues include Acht Brücken Köln, Barbican Centre, Cité de la Musique Paris, Festival Internacional Cervantino, Huddersfield Music Festival, Internationale Ferienkurse für Neue Musik Darmstadt, MaerzMusik Berlin, Nationaltheater Mannheim, NUNC! Chicago, Transit Festival, Vlaamse Opera, Warschau Autumn, Wien Modern, Wittener Tage für Neue Kammermusik, and others. Past performances have been broadcasted on WDR3, Radio Klara, SWR, and others.
He has collaborated with and premiered works by Oscar Bianchi, Chaya Czernowin, Jason Eckardt, Clemens Gadenstätter, Johannes Kreidler, Stefan Prins, Eva Reiter, Simon Steen-Andersen, Steven Takasugi, Serge Verstockt, amongst several others.
Besides his activities as soloist, Nico Couck is a freelance musician in several ensembles such as Nadar, Hermes, SWR Experimentalstudio, and is artist-in-residence at ChampdAction.
In addition to performing, Nico Couck is currently assistant professor of guitar and chamber music at the Royal Conservatoire of Antwerp.
---
After starting his career outside musical education institutions, Michaël joined the Conservatory of Saint Étienne in 2006, where he was offered access to a global musical culture: analysis, musical training, writing, opera singing. Two years later, he obtained a Diploma in Musical Studies specializing in piano in the class of Roland Meillier.
The young pianist appeared on several occasions within the ensemble "Atelier XX-21" directed by Fabrice Pierre, in the context of the performance of instrumental contemporary music, but also in that of electroacoustic creations. In September 2013, composer Pascale Jakubowski dedicated to him a concerto, which he premiered for his graduation recital. In June 2014 Michaël obtained his DNESM (National Diploma of Musical Superior Studies) with the mention "Very Good".
Introduced to the horizons of Jazz and improvisation by Franck Avitabile (Conservatory of Lyon), Michaël has a passion for eclecticism. In search of an ever more direct, rich and spontaneous link with his audience, he strives to create bridges between different musical styles. In 2017, he arranged and interpreted on the piano the music of two shows, built with Daniel Estève (director, choreographer, singer) and Jean-Louis Poirier (singer, actor): Chroniques cubaines and L'Homme en habit rouge.
Holder of the Certificate of Aptitude for the functions of music teacher since 2017 and awarded the title of Artistic Teaching Professor in 2019, the young teacher takes particular care in revealing the creative potential of each student.