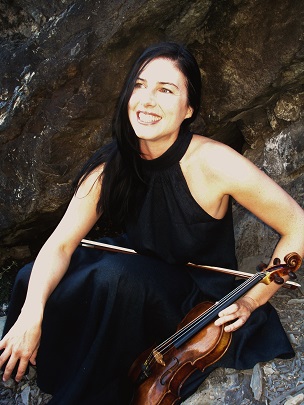 First prize with distinction at the Conservatoire National Supérieur de Musique in Lyon in 2003, with R.Dugareil, then A. Roussin as masters, Sara Chenal later attended advanced violin classes at the Rotterdams Conservatorium under the guidance of J.J. Kantorow, then a series of chamber music classes at the Conservatoire National Supérieur de Musique in Paris with E. Bellocq, J.J. Kantorow and R. Dyedns.
A full-time member of the orchestra at the Opera of Dijon (1996-2001), she subsequently veered to a career as a soloist and chamber music player, first as member in a string trio, then a "Cordes et Ames/ Strings and Souls" duet with the guitar player Olivier Pelmoine. Since 2006 she plays as first violin in the "Sine Qua Non" string quartet and frequently appears in all sorts of chamber music groups.
She also appears as guest violinist in such ensembles as La Baule, J.W. Audoili, Forum Sinfonietta, Les Musiciens d'Art, Musica de Flandre, Océan and she regularly performs contemporary music with Multilatérale, Cairn, Court-Circuit, Instant Donné or Utopik.
Sara Chenal's performances take place in France: Paris Cité de la Musique, Théâtre du Châtelet, salle Cortot, Salle Gaveau, l'Olympia, although she has occasionally performed in the Basilique of Vezelay, Mont Saint-Michel, Palais des Papes in Avignon or Theatre Graslin in Nantes... and abroad: Italy, Germany, Japan, Argentina, Brazil, Nigeria, Cameroon, Tunisia, Canada.
Several pieces have been dedicated to her ( J.Y.Bosseur, J-L Narvaez, F.Rossé) and she has often been asked to take part in broadcasts, in particular the well-known France-Musique programmes "Dans la Cour des Grands" or "Alla Breve". She has recorded three CDs for Scarbo with the guitar-player Olivier Pelmoine and appears in miscellaneous recordings with Marc Perrone, Jacques Lenot, Philippe Leloup, Albert Hamman, Emilie Simon, Jean-Pierre Ferey and the quatuor Sine Qua Non.
Sara Chenal is also very keen on teaching and has passed her Certificat d'Aptitude. After teaching for five years at the Conservatoire à Rayonnement Régional in Nantes, and four years at the CEFEDEM Bretagne-Pays de la Loire, she is at present both teacher and coordinator at the district Conservatoire of Paris 9e.
---
Antoine Morinière starts his guitar studies at the age of eight with Jean Luc Rocchietti, then he continued with Olivier Chassain at the Conservatory of Bordeaux. In 2011, he enters the Conservatoire National Supérieur de Musique et de Danse de Paris with Olivier Chassain and Laurent Blanquart. He also received professional guidance from Jeremy Jouve during 2 years, and obtains his Master's degree in guitar with the highest distinction.
Since 2012, Antoine starts travelling around the world with his guitar for solo recitals and concertos, and also performs at various festivals in France.
Interested in contemporary music, he collaborates with the Japanese composer Rikako Watanabe for the piece "Suite pour guitare" wich is also dedicated to him. He also premiered Obscurs for guitar and clarinet by Raphaël Sévère, and a work by Jean Frédéric Neuburger for two guitars (with Thibault Garcia) and clarinet (R.Sévère).
Motivated by the mixture of artistic expressions, he has a project to conjure his guitar with dance in the show "Nocturne" with the contemporary dancer named Joachim Maudet. This spectacle is about 3 guitar pieces, the Nocturnal by B. Britten, Chaconne by J.S.Bach and Entre chien et loup by R. Sévère.
Antoine is also involved in chamber music projects as a guitar clarinet duo with Raphael Sévère, as a guitar duo with Thibaut Garcia, with singer (Marianne Croux, Aude Extremo) with violin (Marianne Piketty), with piano (Jean F. Neuburger).
Antoine Morinière is sponsored by Fondation Safran.