2020 Residents
---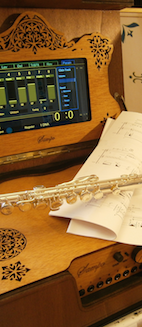 In an effort to support the creation and interpretation of contemporary music, Musinfo association organizes a residency for soloists who wish to transcend the sound boundaries of their instrument with the Sampo.
Intended for performers of any instrument, the Sampo (www.sampo.fr) is an extension whose purpose is to widen the sound field of an acoustic instrument. It allows to deepen the musical expression in any place and in complete autonomy.
The purpose of the residency is to hold a concert for the creation of the works of the composers who won the 2020 Composition Contest for Acoustic Instruments and Sampo. The concert program will be composed of the creations as well as repertoire pieces chosen by the performer in collaboration with Musinfo. The concert will be fully performed with a Sampo.
Working on Sampo requires no previous experience in the field of electroacoustic or mixed music.
---
There will be two steps for the preparation for the concert:
1. First, a few months before the residency, a Sampo will be provided to the performer so that the concert can be prepared in the best possible conditions during the composition phase of the work. Sampo allows the networking and exchange of configurations sent by the composer and received on Sampo by WiFi.
2.Second, in order to allow a real exchange and improvement of the piece in a stimulating context, two performers and two composers will be hosted in Saint-Étienne from 24 to 30 May 2020, during the Art & Science Days. On this occasion, in addition to building relationships with other composers or performers, residents will be able to interact with the public, participate in a panel discussion on the use of Sampo, and attend the festival's various concerts and events.
---
Candidates are requested to send their applications before October 31, 2019 by email or Wetransfer to the following address: This email address is being protected from spambots. You need JavaScript enabled to view it.
---
Participation conditions:
Deadline for sending applications: 31 October 2019.
The application files must include the following:

at least 2 audio or video recordings (wetransfer or links) with description
biography
photo for publication on the Musinfo website
a cover letter explaining the reasons for your participation in the residency and your interest in discovering Sampo.

Candidate profile: The residency is open to performers of all ages and backgrounds. This residency is intended for solo performers.
The selection of residents will be based on the cover letter and the recordings provided.
The payment for the concert will be a €300 net fee.
Musinfo will provide:

a Sampo for the duration of the collaboration
initial training and support throughout the duration of the loan
the cost of meals, accommodation and transport within France. International travel expenses shall be covered by the residents
communication in relation to the event (design, printing, distribution of media…)

Residency dates: May 24 - 30, 2020.