Contest Results
The international jury awarded two prizes:
---
The jury
Mikhail Malt (France / Brazil)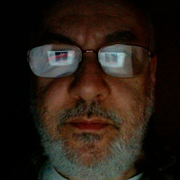 Brazilian / French composer living in Paris and working at IRCAM..
From 1992 he is teaching computer assisted composition at pedagogical departement of IRCAM in Paris. His speciality is music formalization, OpenMusic and MaxMSP softwares.
Robert Rudolf (France, Slovakia)

Slovak composer living in France and artistic director of OpusCentrum ensemble.
He is teaching electroacoustic an computer composition at Conservatoire de Noisy Le Sec and he works at Radio France as executive producer at France Musique (the musical programs of France Musique la Nuit) and he co-produce a monthly music programme Entente Cordiale.
---
The Fourth Composition Contest for Acoustic Instrument and electroacoustic device Sampo
Deadline extended to April 10th 2017

MusInfo is pleased to announce the fourth edition of the International composition contest for acoustic instrument and electroacoustic device Sampo. With this initiative MusInfo proposes to open a new space intended to uphold the work of contemporary composers and sound artists in the field of "live-electronic" music.
Composers are invited to write a short study of 2 to 4 minutes maximum. The electroacoustic device is represented by the software P-Soft supplied by MusInfo. The composers whose studies are chosen will receive a commission from the Opus Centrum ensemble who collaborates with MusInfo. They will be invited to write a full length composition that will be played and recorded next year.
The electroacoustic device Sampo will be supplied to composers by MusInfo for the period of composition.
This year the studies may be written for the following instruments: violin, flute, sax or clarinet.
---
Rules for Participation:
The contest is open from March 1st until 30 March 2017.
The call is open to composers of any ages.
There are no fees for inscription.
The contest is open to any short study (from 2 to 4 min long) written for P-Soft and an acoustic solo instrument (flute, sax or clarinet). No other software or audio files may be used.
The software needed to participate in the contest is available for download at the following address: http://www.sampo.fr
Examples of scores for the device and help concerning the composing process are available at the address: Software and Manual
The composers should send
• the software "bank" file
• the instrument score in PDF format
• the participant information (name & address)
at the following address:

This email address is being protected from spambots. You need JavaScript enabled to view it.

The files must be marked with the title of the work and the name of the author.
The works will be presented to the jury anonymously.
If the composer wishes to send a recording of his work, he should do it by using WeTransfer: https://www.wetransfer.com/
The international jury will nominate the winners of the contest during the Art & Science Days 2016 in Bourges.
The jury can decide not to nominate any winner.
---
Prize:
The winners will receive a commission to write a new composition.
The winners will receive the electroacoustic device, Sampo, conceived by MusInfo at their home for a period of 2 to 3 months in order to write their new composition.
The new composition will be created during the Art & Science Days 2018 by the Opus Centrum ensemble.
---
contact :
This email address is being protected from spambots. You need JavaScript enabled to view it.
http://www.musinfo.fr/index.php/en/creation/contest/2017-contest

---
This contest is supported by: