26 June 2018 - 17h
Médiathèque de Bourges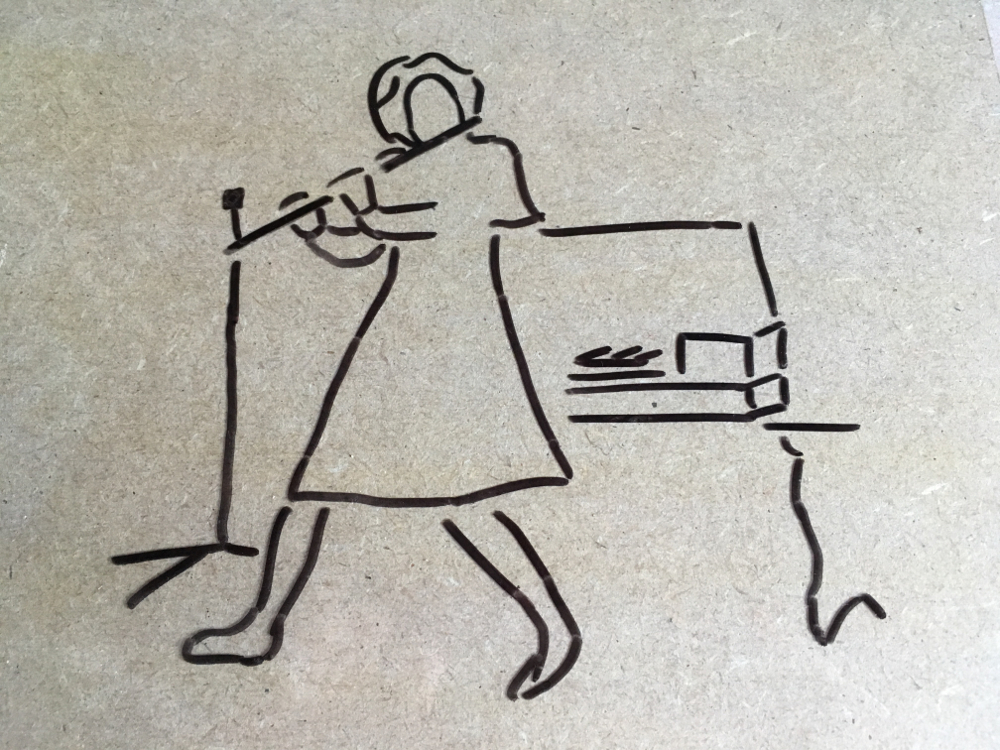 Borrowed from Latin, hiatus, "the action of opening, opening", then, in linguistics, "the occurrence of two vowel sounds without pause or intervening consonantal sound"..
… the encounter of two vowels belonging to different syllables, appearing either from the succession of two words, or inside a word : re-enter, media, audio...
Words including hiatus — words chosen and joined together according to their possible approximations — give miniature improvisations ; then a longer improvisation harnessing the ideas of these miniatures.
Hiatus is an improvisation performance project with flute and clavecin whose sounds are triggered by the performer's movements.
Hiatus articulates the sounds of the flute (played directly) and those of th eclavecin (played via motion capturers) movements of one person and a single musical idea, in order to make a strong and perceptible musical gesture.
performer: Claire Marchal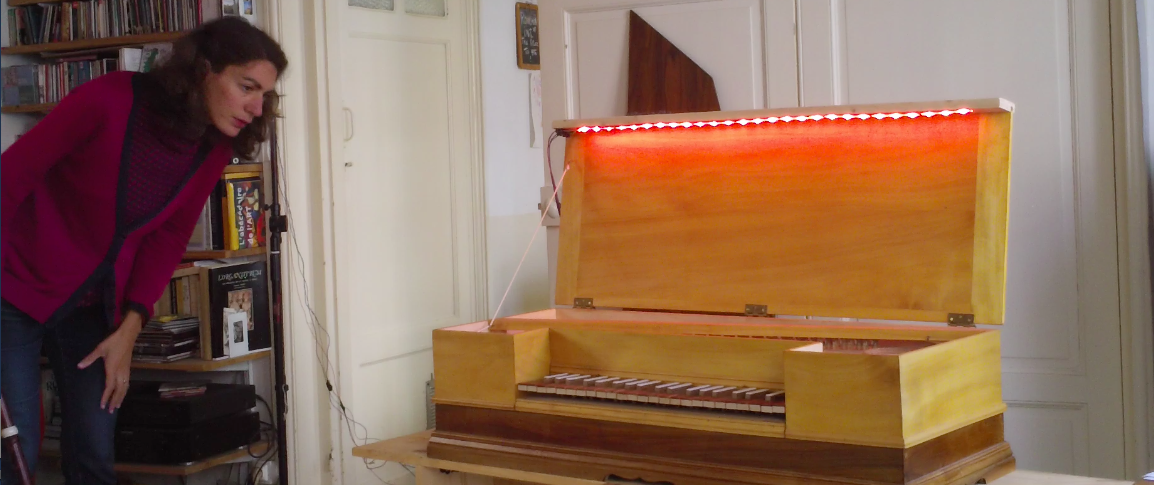 Performance followed by a presentation by David Boinnard, harpsichord builder.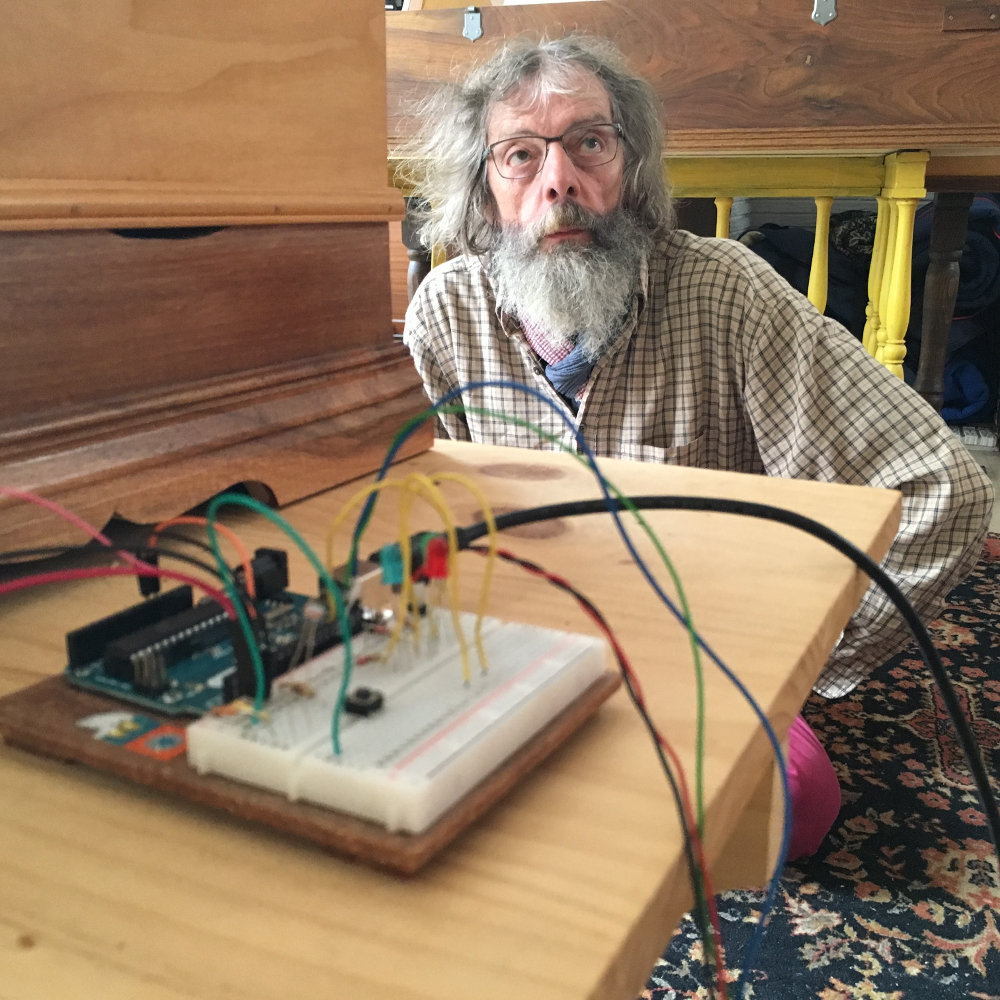 For almost 40 years, David Boinnard has been shaping wood to restore the sounds of harpsichords as they could be heard in the Baroque period. For the sake of historicity, he seeks to understand how his predecessors from the 15th to 18th centuries manufactured instruments. Imbued with knowledge of the history and culture of an era, he rebuilds forgotten sounds by copying spinets, virginals and other clavecins. In his research of authenticity, he exercices curiosity and entrepreneurship: he is the first person to copy typical French instruments such as Thibault de Toulouse's harpsichords ; he doesn't hesitate to test natural gut strings on big instruments; with audaity he is the first one to restore a medieval portable clavicytherium according to a simple iconographic material. This eclecticism and curiosity naturally lead him to modern instrument making.
Benefiting from his profession of recreator of sounds, David Boinnard hasbeen working for a few years already on equipping his own acoustic instruments with MIDI capturers to connect them to current sound systems.
Hiatus, contact
---
27 June 2018 - 17h
Médiathèque de Bourges

"What then is time?" wondered Augustine of Hippo. "If no one asks me, I know what it is. If I wish to explain it to him who asks, I do not know."
Diffusion of multimedia works realized by artists worldwide - a selection from the 5th call for works for composers and multimedia artists.
It is the opportunity to enter different sound and visual universes, to explore the various visions these artists can have on the theme "Time".
Programme :
One Second in the Light


Palindrom (Entropy means nothing to me)


The runner without a trace


False Memory of Normandy

Time Goes By


Time Machine with Voices


A Study In Virtual Reality Music

Velocità limite

D E S V E L O


Planquadrat II


La relativité pour les nuls


Before The Time


Relative Patterns 4


.hexakai

Want Water
selection of works :

Fabien Cothenet, Mikhail Malt

video editing :
Alexander Mihalic
---
28 June 2018 - 18h
Médiathèque de Bourges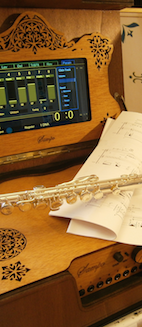 Two wind instruments and a much wider range of sounds. That pretty well summarizes this unique concert with Sampo, an instrument of the 21st century.
Sampo is an innovative instrument that expands the sound field of acoustic instruments. Winner composers of the Composition contest for acoustic instrument and Sampo, Theodore Teichman (USA), Luis Carlos Martinez Wilde (Bolivia), Nikos Koutrouvidis (France / Greece) and Maurilio Cacciatore (Italy) make you discover new sounds with four world premiere works.
The concert programme also includes works selected by the performers, Monika Streitová and Serge Bertocchi, from the repertoire of mixed music: Barthélémy, Blardony, Cavanna, Gubitsch, Oliveira.
Thus we suggest a programme jointly constructed in their image by the winner composers and the performers.
Nikos Koutrouvidis and Maurilio Cacciatore, in residency in Bourges during the 2018 Art & Science Days, will be present to meet the public and personnally present their works.
Concert programme:
Composition contest for acoustic instrument and Sampo
Winners 2018 - prize ceremony
Concert
Theodore Teichman

Gazébo

Nada al otro lado de la valla *


Pulse(s) *

Goutte d'or blues

Des bords déments


Le Presque-rien *

Cantamen *


A Escada Estreita

Corporeal *

(saxophone and Sampo)

(flute and Sampo)

(saxophone and Sampo)

(saxophone and Sampo)

(saxophone and Sampo)

(flute and Sampo)

(flute and Sampo)

(flute and Sampo)

(saxophone and Sampo)
* (world premiere)
performers:

Opus Centrum Ensemble : Serge Bertocchi – saxophones and Sampo, Monika Streitová – flute and Sampo
---
29 June 2018 - 17h
Médiathèque de Bourges
Concert by conservatory students in the framework of the RéDi-Musix project. Partner conservatories have had Sampos at their use during one year, each of them having been able to use it as they wished playing either repertoire pieces or creating new works. This concert gives an insight to their work during this year 2017-2018.
Programme :

Gaëtan Gaborit

Quentin Judic

Jean-Claude Risset

Michel Zbar

Continuum *

Petite pièce pour Saxo alto et Sampo *

Voilements

Continuo

(saxophone, video and Sampo)

(saxophone and Sampo)

(saxophone and Sampo)

(violin and Sampo)
* (world premiere)
performers:

Elisa Fouquoire - violin and Sampo
Quentin Judic - saxophone and Sampo
Corentin Nagler - saxophone and Sampo