18 May 2021 at 20h

Jean-Michel Pinon
New computer tools are pushing some of us to realize the dream of total control over our creations and seem to make the traditional circuits of production and distribution almost obsolete. Through the experience of Aranea Editions, a micro-structure of publishing works and digital projects whose cradle is located in Bourges (Cher), we will try to see things more clearly. Artistic emancipation? Alienating freedom? Mirage?
Based on the model of literary publishing, which can easily be transposed to other disciplines such as music or photography, we are offering you a small audio-video podcast, necessarily "homemade", to open the debate.
=> Watch online (French)

---
1st June 2021 at 20h
Fabien Cothenet
The French language is our true national treasure: we love its accents, its rhythm, and the literary heritage it has generated. Yet voices are being raised in alarm. The language is in danger, threatened by the Anglo-Saxon invasions that once helped forge it, as well as by the impoverishment of its vocabulary and syntax due to the less than rigorous uses made of it by the younger generations. Is this the case? Is the language becoming poorer? Or is it a mirage? Is the cathedral of the French language on fire?

Fabien Cothenet is a translator and founder of the translation agency In Translatio. He is passionate about linguistics, evolution, usage and study of languages.
=> Watch online (French)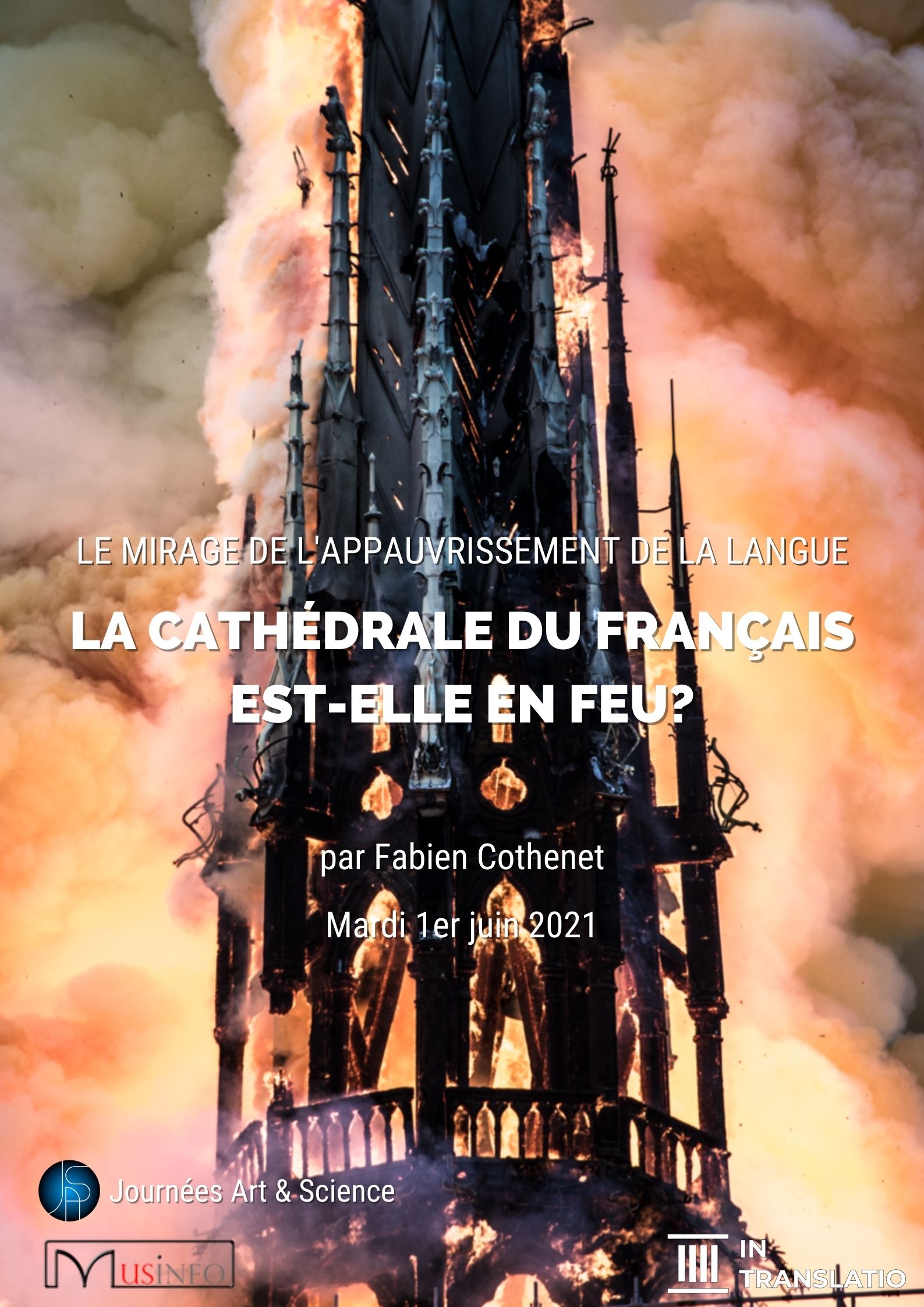 ---
29 June 2021 POSTPONED TO 20 JULY

Alexander Mihalic
Musical instruments evolve constantly according to technological advances, new knowledge and demands from musicians.
The search for new sounds pushes to invent new instruments on one hand, and to modify already existing ones on the other. By adding internal or external elements, it is possible to increase the sound expressions of existing instruments.
While such elements were mechanical in the beginning, the 20th century has brought us electronic means to transform sound. In this case, we speak about augmented instruments. One extension like this is the Sampo.
A composer and PhD in musicology, Alexander Mihalic is the creator of the Sampo. Having a passion for the link between science and art, he is particularly interested in gestural interfaces and the sonification of data. Alexander Mihalic is currently focusing on the development of the Sampo and on the management of Musinfo association, where he serves as Chairman.
=> Watch online (French with English subtitles)